If you're seeking a playground that sparks your child's imagination, look no further than Dragon Kid Park (or Drachenspielplatz in German). Nestled in the vibrant neighborhood of Friedrichshain in Berlin, this playground transports kids to a world of dragons and castles, offering a one-of-a-kind play experience.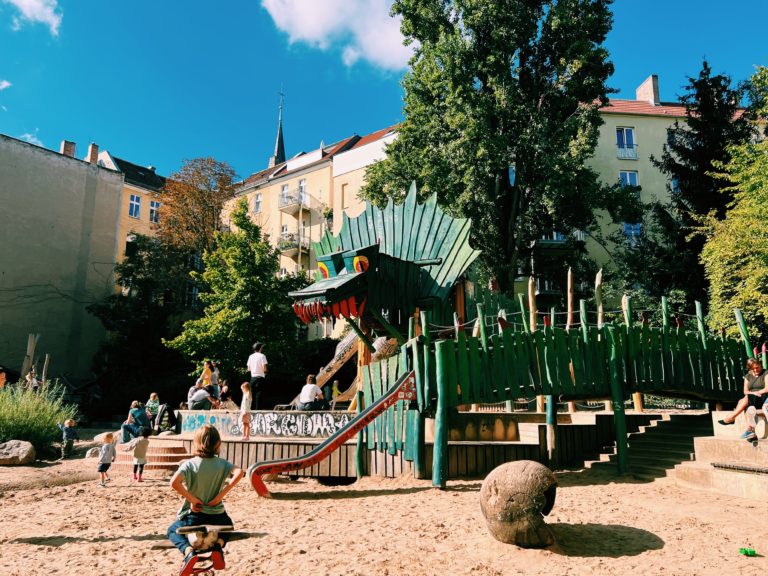 What makes Drachenspielplatz so special?
The centerpiece of Drachenspielplatz is a towering dragon, which children can climb on, slide down, and explore. The dragon is covered in scales and features intricate details, such as its glowing eyes and sharp teeth. As children play on the dragon, they can let their imaginations run wild, pretending to be knights slaying a fearsome beast or adventurers.
In addition to the dragon, the playground features other castle-themed play structures, such as a drawbridge and a moat. Children can cross the drawbridge to enter the playground, feeling like they're entering a medieval fortress.
For younger children, there is a separate play area with a mini castle, smaller slides, and a sandbox. This area is perfect for toddlers and preschoolers who may feel intimidated by the dragon structure. They can still enjoy the castle theme while playing in a safe and age-appropriate space.
How to reach Drachenspielplatz
Drachenspielplatz is conveniently located in Friedrichshain, easily accessible by public transportation or by car, making it the perfect weekend activity if you are looking for something easy and close to home. The closest U-Bahn station is Samariterstraße, which is a five-minute walk from the playground. It's a popular spot for birthday parties and playdates, especially during the summer months when families can enjoy picnics and outdoor games, there is also a water pump that children absolutely love.