We have been using cloth diapers for 4 months now, and boy have we learned a lot. I got my first great tips from Mello moms, too, so I want to share my experiences with y'all – maybe they will ease your way into sustainable diapering as well.
The most important thing first: We are very happy with cloth diapers and I love it to see my son with them. It feels like doing the right thing every single day! <3
Cloth diapers are a sustainable way to support your baby until they are old enough to use the toilet. They can be reused many, many times so that you'll not produce piles of garbage alongside your way.
While it is not true that they are per se more sustainable than usual diapers (added water consumption and initial production costs), they will be more sustainable once you use them long enough (and most can even be used for more than one child).
I was a bit afraid of all the work (washing, drying, folding) this would mean, but I can assure you that it's not that much. Yes, you need to be passionate for it because it's an additional wash every 3-4 days, but this means 10-15 minutes of work every 3-4 days which is quite okay IMHO.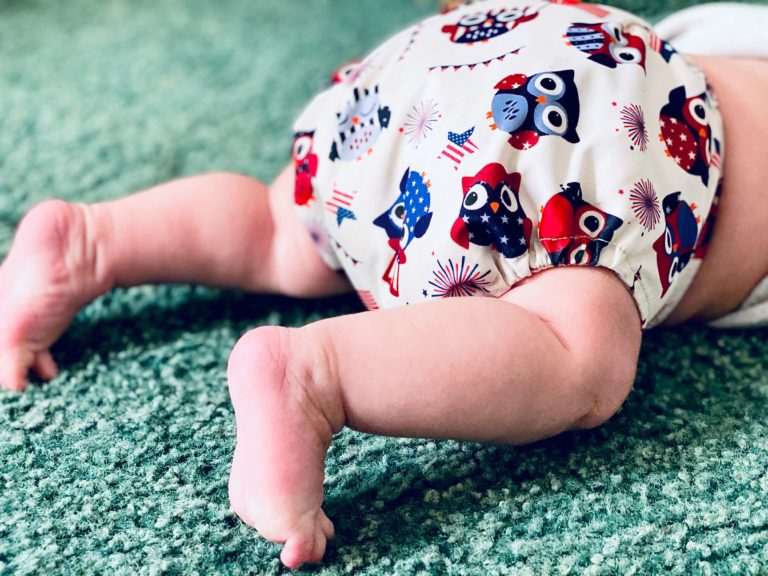 We started when baby was 10 weeks old and I am glad that we didn't try it earlier. With 10 weeks, the rocky start was long gone and we had something that you could call a 'routine'. Starting cloth diapers needs some time and work – to watch tutorials, to get to know the different systems, to learn how to change diapers (yes, it is different, and yes, you will have to learn it anew at first). With 10 weeks, I was confident that we would have the time we needed.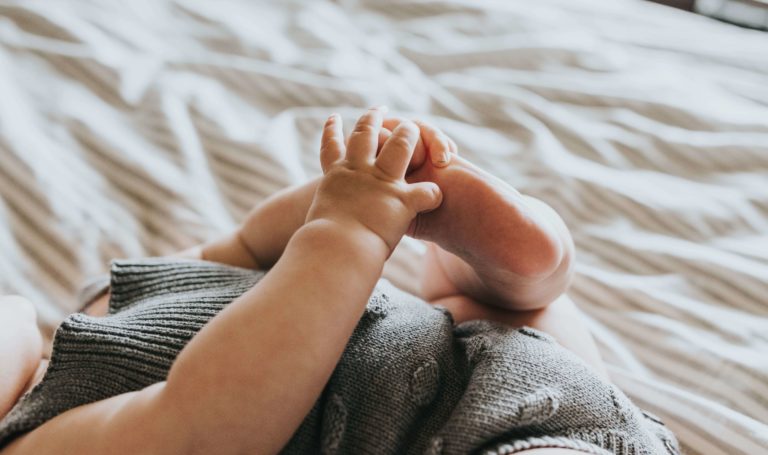 Here's a very bried overview of my start into cloth diapering:
1. I got overwhelmed by all the choices you need to make 😀
2. I watched some tutorials which described the different cloth diaper systems that are available on the market, along with some advantages and disadvantages.
3. I posted on Mello and asked for experiences – and got some very helpful replies 🙂
4. I purchased single cloth diapers (in a used state) via online portals and tried them out – one by one, during the day, when baby was in a good mood. No pressure! This phase can take some days or weeks.
5. I decided for one system (because using several systems alongside each other is complicated and my husband, who is not that much into cloth diapers, didn't want to do a bachelor's degree of cloth diapering first before we started).
6. I sold the systems we wouldn't use via said online portals again (#sustainability).
7. I purchased a full set of the system we use (used ones). In our case, it's the Bambino Mio AiO.
Spend some time on YouTube tutorials on how to use them and wash them properly. Otherwise, you'll most likely end up with leaking diapers.
Start when you have a little time and spend most of it at home (YES, lockdown times are GREAT for starting cloth diapering!). You will be slower with changing diapers in the beginning and you will most likely change clothes more often than you're used to.
Start alone at first, and convince other caregivers when you're trained and experienced so that you can assist them if they get frustrated.
Don't feel pressured to ONLY use cloth diapers EVER. When we're away from home, I usually take throw-away diapers instead of the cloth ones because I don't like to 'travel' with so much baggage. It is okay to change and to use both! Every throw-away diaper that you don't buy is a step into a more sustainable future.
Don't buy the full set from the beginning. We tested four different systems before we decided for one that we particularly liked. You can buy single diapers in a used state to play around with them, which will save some money.
Don't give up! It's hard in the beginning. You will make some mistakes and you will need to figure out WHY the HELL baby is wet AGAIN, although you are SURE that you did everything according to the tutorial… it happens! And you will get more experienced. I have not had a single leakage for weeks now 🙂
By our wonderful Mello Ambassador Frauke Beckert.
Did you know that Frauke has her own blog? She writes about leadership,
technology and machine learning. Check it out here!