In winter, finding fun and exciting activities to do with kids during the weekend can be a challenge, especially during rainy or cold days. Fortunately, there's a fantastic ice cream shop called Peggy Bee located in Friedrichshain (Weichselstraße 13, 10247 Berlin), where parents can relax and enjoy a cup of coffee or gelato while their kids have fun in a welcoming environment.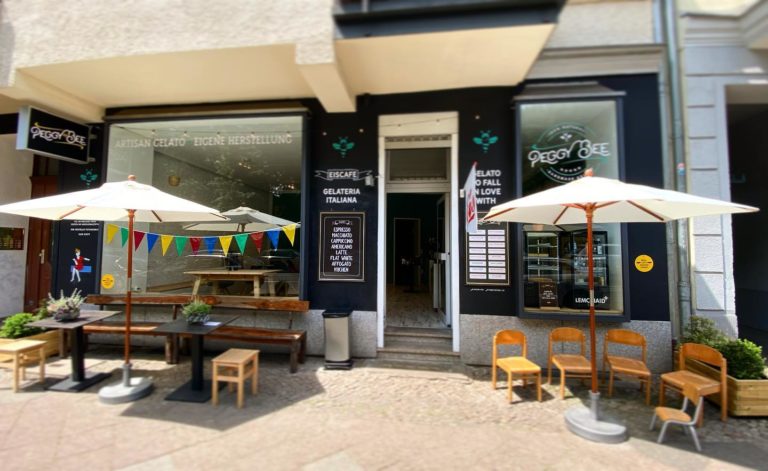 What makes Peggy Bee so special?
Not all coffee places are created equal when it comes to being kid-friendly. And while there are plenties of kindercafé in Berlin, most of them are closed on the weekend. Plus, let's be honest, sometimes it is nice to do activities for parents as well, and visit places that are not designed only for kids. Peggy Bee is the perfect mix between an ice cream shop, a coffee place and a kindercafé. This charming café is specifically designed to cater to families with children. It offers a unique experience that combines coffee, homemade cakes, gelato and entertainment for both young and older kids and adults.
Peggy Bee has a range of books and games that are free for all kids to enjoy. There are coloring books and pens available, providing hours of entertainment while parents can enjoy their coffee and food. Peggy Bee Eiscafé has Italian roots, and most of their ingredients comes from Sicily. Their cakes are so good, and if you're looking for a recommendation, our favorite is the pistachio cheesecake – it's to die for! 
We enjoy visiting Peggy Bee especially on Sunday morning, for a late lazy breakfast with cappuccino and croissant. Talking about croissant, you should try the pistachio one!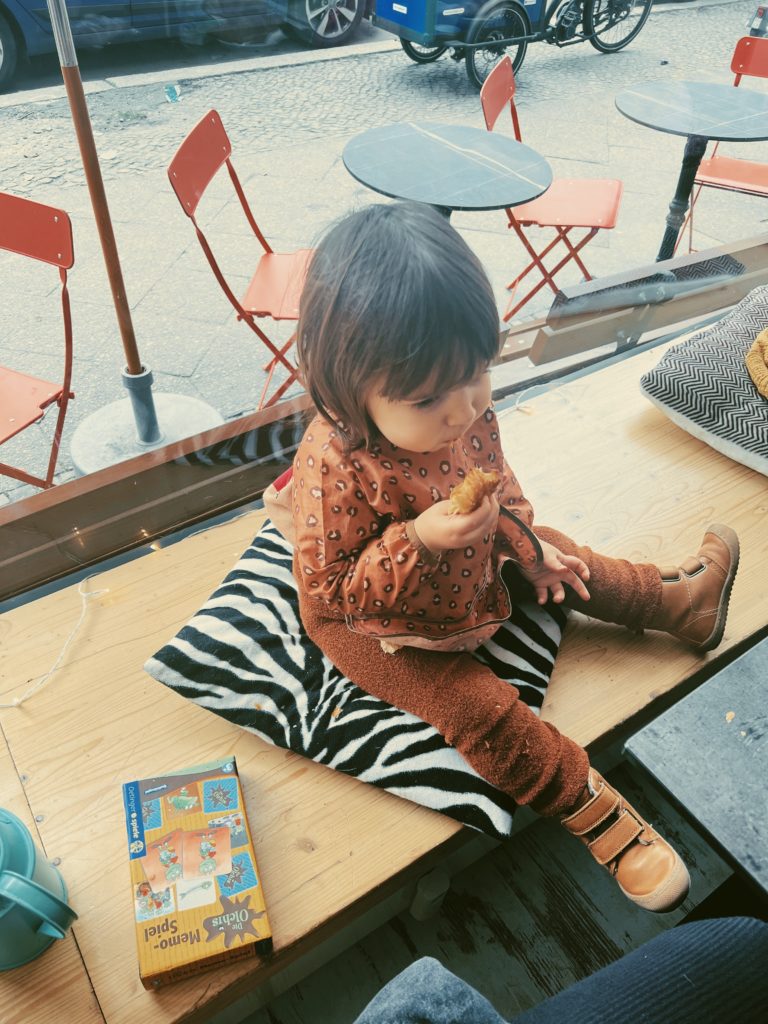 Peggy Bee in summer and winter
Peggy Bee's gelato is another must-try. The café is famous for its amazing gelato, which is perfect for hot summer days. In fact, Peggy Bee is amazing when the weather is better too! Many parents with kids love stopping there after school in spring and summer. They have a couple of tables outside, facing Travelplatz, where you can enjoy the hot weather with your gelato.
But Peggy Bee is not just a summer destination. It's perfect at any time of the year. The cozy and warm interior makes it an ideal spot to enjoy a cup of coffee and a slice of cake during winter days. The friendly staff is always on hand to welcome families, making it an excellent destination for a family outing. Don't forget to take a look at the walls, they always have beautiful art exposed, usually from local artists.