Berlin may be renowned for its rich history, world-class museums, and energetic nightlife. But beyond the iconic Brandenburg Gate and the remnants of the Berlin Wall, the city also offers an oasis for families, particularly during the sweltering summer months. With its myriad of water playgrounds and fountains, also known as "Wasserspielplatz" and "Plansche," these places offer a great way to beat the heat during summer in the city.
The city boasts numerous water play areas, each with its own unique charm and features, catering to all ages. These water areas are free to the public and open up during the summer season when temperatures reach their highest. Whether you're a local searching for a refreshing break or a tourist seeking a fun-filled stop amidst your sightseeing, these water playgrounds are a must-visit. Here, we've curated a list of the best water playgrounds in Berlin.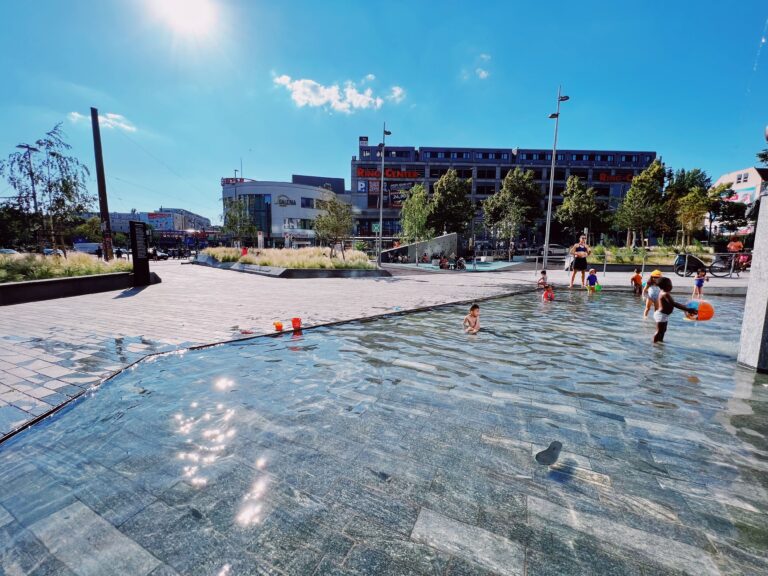 Top Water Playgrounds in Berlin
Here is the list of the best water playgrounds in Berlin. Scroll down to discover more about each location and what you can expect on your visit.
Plansche am Boxhagener Platz

Plansche Volkspark

Wasserspielplatz "Konrad reitet in die Südsee"

Wasserspielplatz Spielbrunnen

Wasserspielplatz Schillerpark

Wasserspielplatz Plansche Plänterwald

Spielplatz Stefan-Heym-Platz
Plansche am Boxhagener Platz
Situated in the heart of the trendy Friedrichshain district, Boxhagener Platz is not just an ordinary park. Apart from its weekly flea markets, the park has a dedicated water playground, sure to delight children. The water playground can be found in the center of the square, surrounded by penguin statues that work as fountains. The water isn't deep, and the park is surrounded by benches to rest, making it a perfect spot for families with young children.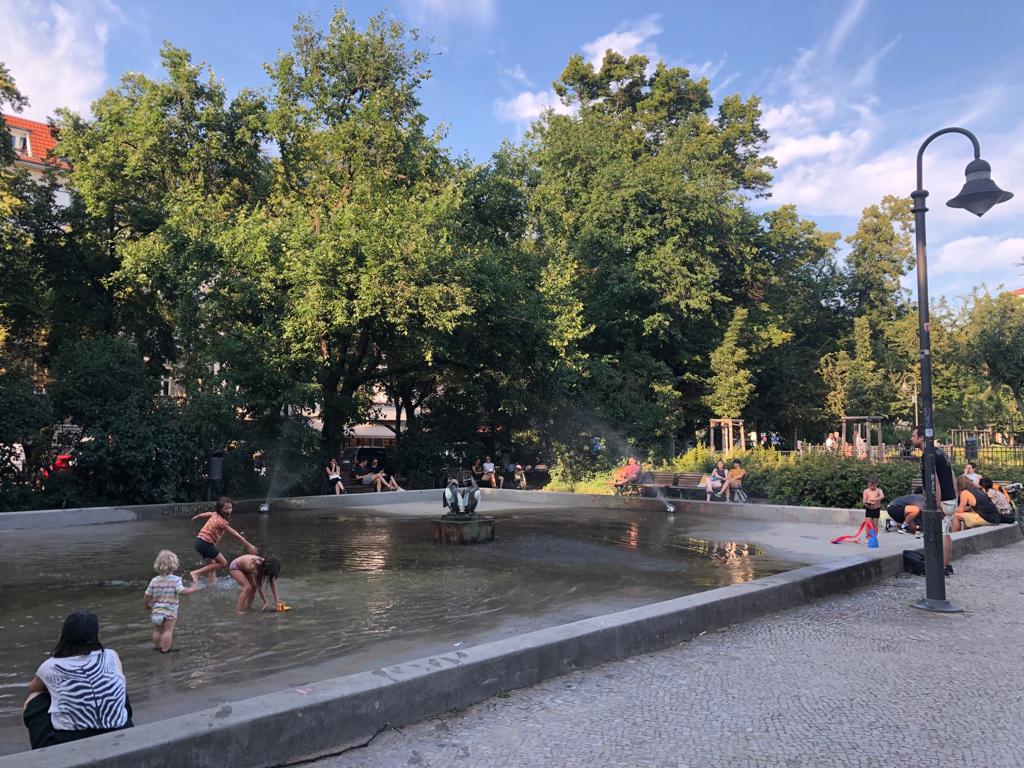 Located in Volkspark Friedrichshain, Berlin's oldest public park, Volkspark Friedrichshain offers vast green spaces and numerous attractions. Among its highlights is the water playground, which comes alive during the summers. Children can splash around, run through water sprays, and explore the multiple water features that are made even more special by the animal theme. Children will enjoy the water features shaped like various animals, including an elephant and seals. In addition to the regular playground, there is a also a small waterfall for children to enjoy located within the park by the restaruant.
Wasserspielplatz "Konrad reitet in die Südsee"
Garten der Welt is an excellent place for families to visit any time of year, but in the summer, families can enjoy a very special playground. This expansive park is located in Marzahn and offers gardens inspired by various global cultures. Amidst its botanical beauty, you'll find a water playground themed around the children's book and built for adventure. The playground has a giant whale and climbing forest, as well as a hammock and trampoline to explore.
Wasserspielplatz Spielbrunnen
True to its name, which translates to "play fountain', Spielbrunnen offers an array of water features that create a magical world for children. The play area is surrounded by a sandbox and other places for exploration and play. The center is the real treat, with an area full of water jets that children can run through as the water cools the playground. The site is surrounded by benches to take a break after all the fun.
Wasserspielplatz Schillerpark
Nestled in the district of Wedding, Schillerpark is a serene getaway with ponds and expansive lawns. The water playground here is a popular spot with multiple areas that are equipped with different water features, including a paddling pool, enabling kids to learn as they play. Schillerpark is a perfect spot to enjoy a warm summer day with nature and a great way to cool down and play.
Wasserspielplatz Plansche Plänterwald
This playground is a gem, situated close to the Spree River and amidst the tall trees of Plänterwald. The area offers many water features and activities for families to enjoy. The water area used to be a pool, and it still has some design elements that link it to its past. At the playground, you will find a splash pad and other water spouts that will delight visitors, young and old. With plenty of space to enjoy the natural surroundings, this playground promises a refreshing escape.
Spielplatz Stefan-Heym-Platz
The Wasserspielplatz at Spielplatz Stefan-Heym-Platz is a small playground near the city center. It's the perfect spot for a quick trip to play and cool down on hot summer days. Located on the corner of Möllendorffstrasse and Frankfurter Allee, it's easy to reach and offers a great water area for children to splash and play. In addition to a playground, the park has water features and a paddling pool for children to enjoy during warm weather.
Enjoy the Water Playgrounds in Berlin