Get ready for a great weekend in Berlin, because it's time for our list of some of our favorite exciting activities happening this weekend. These events are great for the whole family, and we hope you enjoy them. With the Mello app, parents can connect, share experiences, and discover the top family-recommended events and activities in Berlin. Get ready to enjoy our list of fantastic events happening this weekend on October 21st and 22nd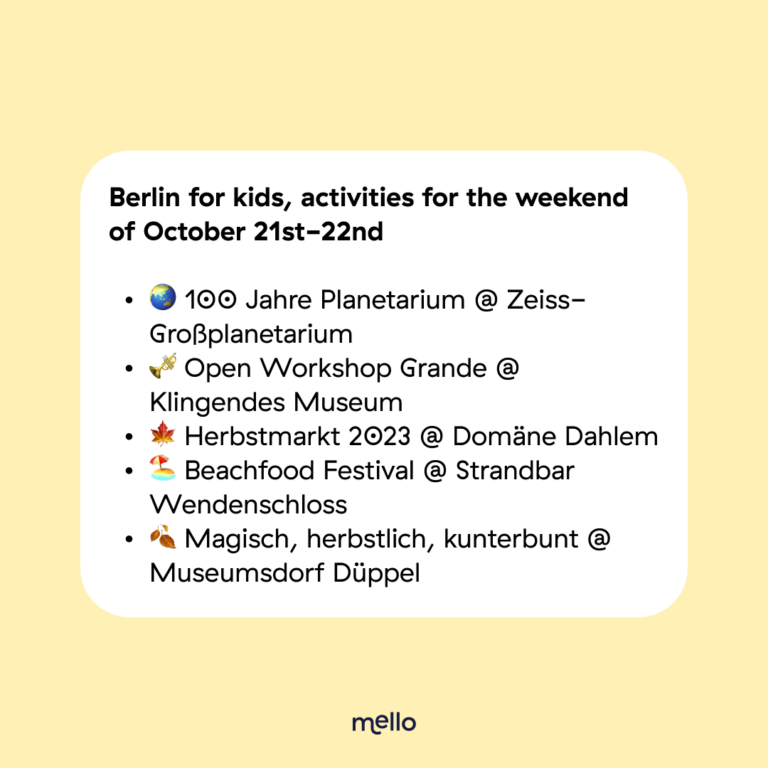 Berlin for kids, activities for the weekend of October 21st and 22nd
🌏 100 Jahre Planetarium @ Zeiss-Großplanetarium
🎺 Open Workshop Grande @ Klingendes Museum
🍁 Herbstmarkt 2023 @ Domäne Dahlem
🏖 Beachfood Festival @ Strandbar Wendenschloss
🍂 Magisch, herbstlich, kunterbunt @ Museumsdorf Düppel
🌏 100 Jahre Planetarium @ Zeiss-Großplanetarium
Sat 21/10, from 11:00, all ages

Celebrate 100 years of the planetarium this Saturday with a unique festival for the whole family. The complete program includes many exciting events with different videos and music shown in the planetarium and is accompanied by additional programming such as Q&As and refreshments. With a full schedule, it's sure to be a fun day of learning and exploration.
Entry: Free
Where: Zeiss-Großplanetarium, Prenzlauer Allee 80, 10405 Berlin
More Info: https://www.planetarium.berlin/veranstaltungen/100-jahre-planetarium
🎺 Open Workshop Grande @ Klingendes Museum
Sat 21/10, 10:00-12:00, ages 6+

Das Klingende Museum hosts another workshop for children interested in music and trying different musical instruments. The workshop allows children the opportunity to try many different instruments with the help of the museum's experts. It is an excellent opportunity for children wanting to explore the world of music. The event happens once a month, but space must be reserved in advance.
Entry: €9,00 for children, €18,00 for adults
Where: Klingendes Museum Berlin, Behmstraße 13, 13357 Berlin, Germany
More Info: https://www.klingendes-museum-berlin.de/ihr-kommt-zu-uns-fuer-familien-open-workshops/
🍁 Herbstmarkt 2023 @ Domäne Dahlem
Sat & Sun 21-22/10, from 10:00-18:00, all ages
The fall market is happening again this year at Domäne Dahlem. The market focused on crafts, has so much to offer visitors, including 60 stands specialing in everything from ceramics to textiles. Delicious food will also be available, as well as a full program with activities for both adults and children to enjoy, including tours, carriage rides, arts and crafts, and much more.
Entry: €3,50, free for children under 18
Where: Domäne Dahlem, Königin-Luise-Straße 49, 14195 Berlin
🏖 Beachfood Festival @ Strandbad Wendenschloss
Sat & Sun 21-22/10, from 12:00, all ages
This weekend's beach food celebration is an excellent event for the whole family. Strandbas Wendenschloss hosts the Beachfood Festival with many stalls with culinary delicacies from around the world to try. In addition to the food, there will be live music throughout the weekend, raft tours, and a dedicated place and program for children's activities.
Entry: Suggested donation
Where: Strandbad Wendenschloss, Möllhausenufer 30, 12557 Berlin
More Info: https://strandbad-wendenschloss.berlin/beach-food-festival/
🍂 Magisch, herbstlich, kunterbunt @ Museumsdorf Düppel
Sat & Sun 21-22/10 from 10:00-16:00, all ages
Visit the open-air museum Museumsdorf Düppel for their holiday program for the fall season. In addition to the usual exhibitions, during this season, the museum offers programming with information on Autumn in the Middle Ages and workshops on historical children's games and crafts. The weekend will also include the opportunity to hear fairytales and make Stockbrot.
Entry: €5,00, free for children under 18
Where: Museumdorf Düppel, Clauertstraße 11 Anfahrt Tor 1, Zugang zum Parkplatz, Clauertstraße 11, 14163 Berlin
More info: https://www.stadtmuseum.de/veranstaltungen/magisch-herbstlich-kunterbunt