It's time for another fun-filled weekend in Berlin. Don't miss all of the great events happening for families this weekend. If you aren't sure which events to attend this weekend, this is our list of out top picks. With the Mello app, parents can connect, share experiences, and discover the top family-recommended events and activities in Berlin. Get ready to enjoy our list of fantastic events happening this weekend on November 11th and 12th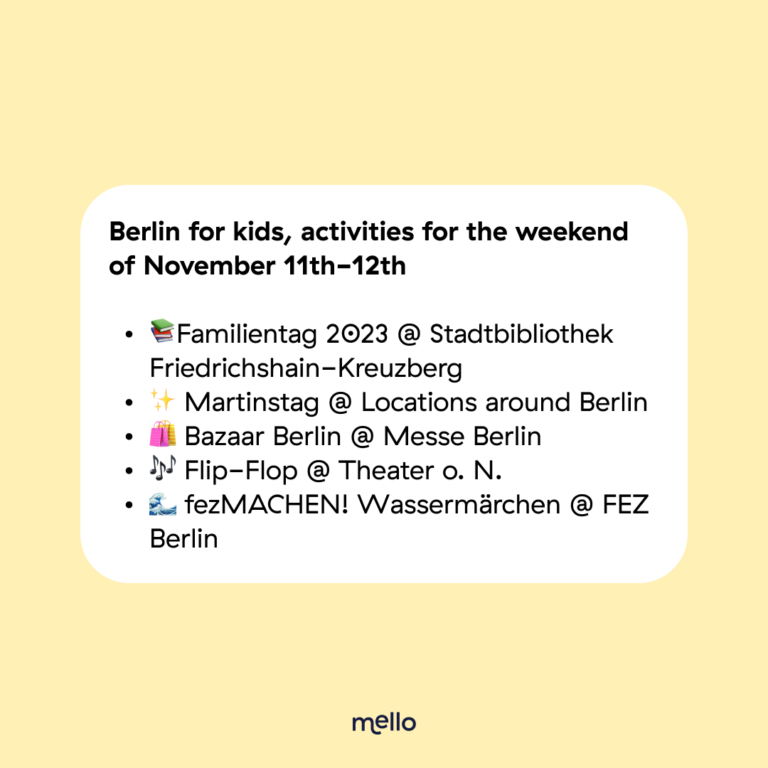 Berlin for kids, activities for the weekend of November 11th and 12th
📚Familientag 2023 @ Stadtbibliothek Friedrichshain-Kreuzberg
✨ Martinstag @ Locations around Berlin
🛍 Bazaar Berlin @ Messe Berlin
🎶 Flip-Flop @ Theater o. N.
🌊 fezMACHEN! Wassermärchen @ FEZ Berlin
📚Familientag 2023 @ Stadtbibliothek Friedrichshain-Kreuzberg
Sat 11/11, 11:00-16:00, ages 3-12

Taking place this Saturday in three libraries in Friedrichshain-Kreuzberg, Familientag returns. This special event is fun for the whole family, with each library hosting different events throughout the day. The program includes fairy tales from around the world, concerts, theater, and many other presentations celebrating the joy of books and reading.
Entry: Free
Where: Bezirkszentralbibliothek Pablo Neruda, Frankfurter Allee 14 A, 10247 Berlin, Mittelpunktbibliothek Wilhelm Liebknecht/ Namik Kemal, Adalbertstraße 2, 10999 Berlin & Stadtteilbibliothek Friedrich von Raumer, Dudenstraße 18-20, 10965 Berlin
More Info: https://www.berlin.de/stadtbibliothek-friedrichshain-kreuzberg/aktuelles/veranstaltungen-ausstellungen/familientage/familientag-2023-1376126.php
✨ Martinstag @ Locations around Berlin
Sat 11/11, varying times, all ages

🛍 Bazaar Berlin @ Messe Berlin
Sat & Sun 11-12/11, 10:00-19:00, all ages

For over 60 years, Bazaar Berlin has been bringing unique gifts and shopping experiences to the city. This event, taking place this weekend at Messe Berlin, had exhibitors from around the world showcasing handmade crafts, design items, natural products, and Fair Trade goods. Featuring over 300 vendors from all around the world, there will also be lots to see, experience, and learn.
Entry: €4,00 for children, €10,00 for adults
Where: Messe Berlin, Messedamm 22, 14055 Berlin
More Info: https://www.bazaar-berlin.de/en/
🎶 Flip-Flop @ Theater o.N.
Sat 11/11, 16:00 & Sun 12/11, 14:00 & 16:00, ages 2+

🌊 fezMACHEN! Wassermärchen @ FEZ Berlin
Sat & Sun 11-12/11, 12:00-18:00, ages 2+

Join the fairytale world of water this weekend at FEZ Berlin. The FEZ is turned into an immersive scene of a small port town to tell the stories of Iskappi and Hilda. Different areas and stages invite children to explore and learn more about the story while also learning about the importance of water on our planet.
Entry: €5,00
Where: FEZ Berlin, Str. zum FEZ 2, 12459 Berlin
More info: https://fez-berlin.de/fezveranstaltungen2023/fezmachen-wassermaerchen