Ah, Berlin winters! As parents, we all know that when the temperature drops and daylight gets shorter, finding winter activities for kids in Berlin can be a challenge. Sure, with the right boots, jackets, and mittens, a spielplatz adventure is always on the cards. But let's be honest, there are days when we just want to escape the cold and find a cozy corner where our kids can play, learn, and explore without the shivers. This is where the Mello app comes in handy. It's not just an app; it's a community. It's us, the Berlin parent brigade, sharing, guiding, and recommending. It's the place where you can meet other parents, ask questions, and check local recommendations. So, from our family to yours, here's a list of our favourite indoor spots in Berlin. Grab a cup of cocoa (or glühwein!), and let's dive in!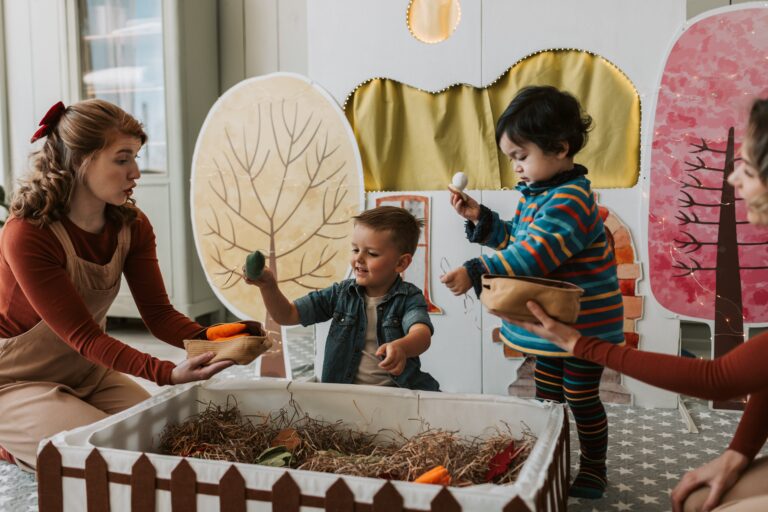 Top 10 Cold Weather Escapes for Kids in Berlin
Kindercafés ☕
Indoor Playgrounds 🎊
Familienzentrum 👪
Kids Friendly Exhibition or Museums 🖼️
Indoor Swimming Pools 🌊
Libraries with Children's Areas 📚
Indoor Animal Farms or Petting Zoos 🐖
Creative Workshops/Classes 🎨🎵
Indoor Climbing Centers 🐒
Theatre Shows for Kids 🎭
These child-friendly cafes are perfect for both parents and little ones. Often equipped with play areas and kids' menus, they offer a warm, cozy atmosphere. You can try CarlaConradPaula in Friedrichshain, or Kindercafé Spielzimmer in Prenzlauerberg.
Community centres focused on families, offering workshops, courses, and indoor play areas. You can find many of them in every neighborhood, and they usually offer special activities but also open times where you can just show up and play with your kids. Check also our list of Familienzetrum with English Activities.
Kids-Friendly Exhibitions or Museums 🖼️
There are many museums for kids around Berlin like MACHmit! or Labyrinth. Check our list of top museums for kids in Berlin. And if you are looking for an activity entertaining for both adults and kids, check out the many exhibitions or interactive museums around the city. We recommend the following: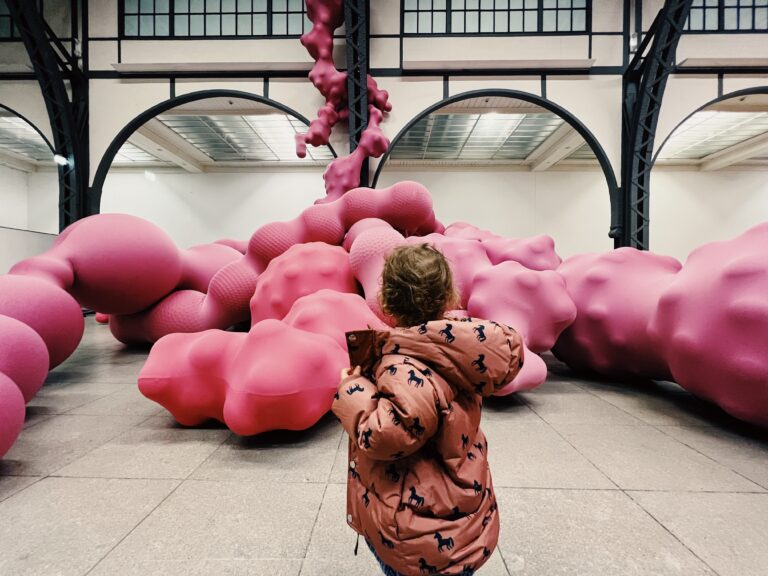 An excellent way for the family to stay active and warm, many pools have kiddie sections or slides. You can try Stadtbad Neukölln, a historic architecture combined with family-friendly pools. Or maybe visit the public pool at FEZ-Berlin that offers slides and water toys. If you are up for a little drive, you can swim with Penguins and play with waves at Spreewelten (check our article for more info).
Libraries with Children's Areas 📚
Dive into a world of stories and imagination, away from the biting cold. While some may assume libraries cater mainly to older children, even the youngest minds can discover a treasure trove of captivating reads. Borrowing books becomes particularly appealing, considering children often yearn for fresh stories after tiring of familiar ones. What's more, many libraries, including the Stadtbibliothek Pablo Neruda in Friedrichshain, offer a diverse collection of children's books in languages such as Arabic, English, French, Russian, Spanish, Turkish, and Italian.
Indoor Animal Farms or Petting Zoos 🐖
Some farms move their smaller animals indoors during colder months for kids to interact with. For example, Domäne Dahlem is an agricultural museum with a historical farm and indoor sections for certain animals in winter. Tierpark also moves many animals to the indoor section.

Creative Workshops & Classes 🎨🎵
Various spots in Berlin offer workshops tailored for children ranging from pottery to painting.
The Lern- und Erfinderwerkstatt

The Lern- und Erfinderwerkstatt is a place for craft activities and events for kids 6+. They do a regular DIY-Thursday and do other special events such as Family Christmas workshop to make Christmas presents and more.
At

Urban Art Kid

, children aged 4 and up explore art through play, engaging with a variety of techniques like urban sketching, comic drawing, watercolor painting, fashion design, digital drawing, graffiti spraying, and even making animated films.

If your child is more into music, or you have younger kids, Berlin offers many music concerts or workshops. Here are some to keep in mind:
Lullula

is a studio that offers early childhood music education for children ages 0-5, rooted in classical music and inspired by the classical pedagogies of Kodaly and Dalcroze

Babyevents Berlin

 offers classic music concerts specifically designed for babies and their family around the city
Indoor Climbing Centers 🐒
For slightly older kids, these are a great way to burn energy. Magic Mountain, situated in Gesundbrunnen, has sections suitable for kids and families. Boulderklub Kreuzberg is another great alternative; while primarily for bouldering, it has beginner areas great for children.

Berlin has several theatres which put on shows suitable for a younger audience, a delightful indoor activity for colder days.
Grips Theater

, located in Tiergarten, it's one of the most renowned children's theatres in Berlin.

Berliner Kinder Theater

 is a family theatre that offers plays for children ages 4-10. Currently, they are playing Pippi Langstrumpf in their winter location in Fontane-Haus.

Theater o.N.

 

in Prenzlauer Berg also

focuses on productions for young audiences. You will find plays for children ages 2+

While IKEA is often on our radars for home furnishings and those delectable Swedish meatballs, it's also a hidden gem for parents seeking winter activities for kids in Berlin. If you thought of IKEA merely as a shopping destination, think again. For kids aged 3 and up, the indoor playground offers a delightful escape. It's a space designed with young imaginations in mind, ensuring they are engaged and entertained. Moreover, if you're planning to grab a bite at the IKEA restaurant, you'll find a dedicated play station for kids, making mealtime both fun and relaxing for the entire family and perfect also for younger children. So, the next time you're thinking of an indoor retreat that combines shopping, dining, and play, IKEA might be the unexpected yet perfect choice!

Happy Winter Season in Berlin